Rial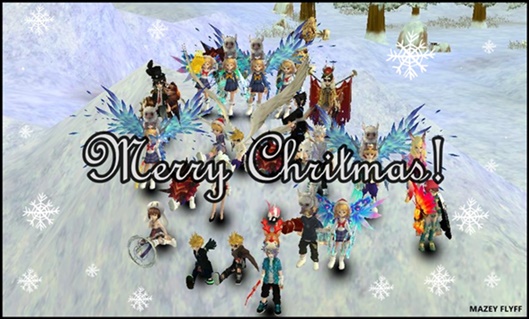 It's that time of the year again!

Note: I would like to inform everyone that due to urgent matters, I have to change the date for the in-game events. It will now be on December 20th, 2:00 AM server time. Sorry about that and see you all!

Happy holidays Mazey FlyFF players! Christmas is all about giving and therefore, I have prepared different types of events. Everyone has a chance to win dPoints, up to 5,000 worth of Red Perins, random full donate items and many more! Details are all on this thread. Have fun and enjoy.

Mechanics

1. One player can only win once for forum and once for in-game events. This means you can only win a maximum of two (2) times. (vend, little helper event and siege event not included)
2. Each player is only allowed to choose one (1) guild for Familia event.
3. Editting of photo (cropping included) is not allowed.
4. Submission of entries must be posted on the proper and appropriate thread for it.
5. Winning participants will personally be contacted by me through either forums or in-game.
6. All in-game events will be hosted on the same day. This would be like a special Christmas day for Mazey. It will be hosted on December 20th at 2:00 AM server time. (Little helper event excluded)

Failure to follow rules may result in disqualification.
In-game events
Events will be hosted in order.

Fast hands event

Details: In order to participate, it is required to have a full shout activated on your character. You also need to be in channel 1. The first one to shout
exactly
what I will ask to be shouted wins.
Prizes:
1st round - 200 Red perin
2nd round - 200 Red perin
3rd round - 200 Red perin

Run and sit

Details: All participating players should be in channel 1 collecting area at Saint Morning. Instructions will be explained during the event.
Prizes:
1st round: 5 dPoints + 200 RP
2nd round: 5 dPoints + 200 RP
3rd round: 5 dPoints + 200 RP

Hide and Seek

Details: I will be hiding somewhere and you need to find me base on the given clues. The first person to find and trade me will win. There will be 3 winning participants for this event.
Prizes:
1st round: FD Lion pet with 3x 300 STA awake
2nd round: FD Tiger pet with 3x 300 STR awake
3rd round: One (1) set of Donor accessories

Siege event

Details: Right after Hide and seek, siege event will be hosted right away. Different things are required in order to obtain a prize.
Prizes:
MVP: 300 RP
Top 7 player: 200 RP
Third to the last player (0 point will not be included): 200 RP

Little helper event

Details: This event will run starting
December 15th until December 21st.
I will go online at random times during the said dates and will be using my alt or dummy characters. I will go around madrigal and ask simple questions or help from other players. Each time a player helps me, I will announce it and a prize will be given to the player. Be sure to help as much as you can!
Winners:
1st winner • Saisumi/DaeSung won with a prize of 200 Red Perins + 1 GM prize
2nd winner • Vungom won with a prize of (4) GM Prizes
Forum events
You may submit one (1) entry for each different type of forum event. However, you can only win once.

Familia event

Details: To participate, the guild leader must choose five (5) members of his guild and take a screenshot together with them. Must be christmas themed. Take note it should only be
one guild per participant
. Event will run starting
December 13th until December 19th
. Submit your entry in this thread:
http://mazeyflyff.forumotion.net/t7397-familia-christmas-event#50924
with the following form below:
Spoiler:

Screenshot:
Guild leader name:
Guild members in-game name:
What makes your guild special and different from other guilds?

Prizes:
Guild leader: 400 Red Perins
Each member (only 5): 300 Red Perins each

Best Buddy

Details: Dress up in Christmas themed matching outfits with your best buddy in-game! You and your best buddy can both win a prize. You can only be included in one (1) entry. Event will run starting
December 13th until December 19th.
Fill up the following forum below and submit your entry on this thread:  http://mazeyflyff.forumotion.net/t7396-best-buddy-christmas-event#50923
Spoiler:

Screenshot:
In-game name:
Best buddy in-game name:
Why did you choose him/her as your best buddy?
Write a short christmas message for him/her.
Prizes:
Participant and best buddy: 500 Red Perin each
This is not the only event. This event is hosted by me and Mazey has a whole different event for Christmas. Updates are coming VERY soon as well. See you in-game on the 20th of December for the in-game events. Happy holidays ~
Credits to Nectarine for helping me out with ideas. (Luv u gal)